The History of
Challis Creek Ranch
When you picture vast herds of mustangs amidst scenic mountains and fertile meadows, you have visualized what best describes Challis Creek Ranch. Homesteaded in the late 1800s by one of the original pioneers of that era, William J. Eddy, Challis Creek Ranch was originally a cattle and horse operation. In recent years the cattle went away, and we became a sanctuary for horses. Eddy Creek, a tributary to Challis Creek bordering the eastern boundary of the original homestead, is a reminder of his legacy.
Located in the fertile Round Valley outside Challis, Idaho, and just over a mile high in elevation, the ranch is adjacent to the Frank Church Wilderness area (the largest contiguous forest in the lower 48 states - 2.2 million acres) and the Challis National Forest.
At the base of the surrounding mountains found in the shadows of the towering Twin Peaks (10,238 ft.) and White Valley Mountain (9,980 ft.), Challis Creek runs through the Ranch year-round. Five (5) natural springs, flood irrigation ditches, and a gated pipe irrigation system provide stock water as well as the irrigation water used to maintain the lush pasture grasses that abound throughout the 200-plus acres.
Additional pristine, semi-rugged hillside pastures are abundant with native bunchgrass, sagebrush, and numerous other high-desert greenery. This undisturbed terrain, coupled with the aforementioned surrounding wilderness, provides the balance needed for the most natural setting possible for the resident "equine" population as well as the occasional visiting deer, elk, antelope, mountain goat, mountain sheep, moose, or any of the other more transient, yet relatively common, "Home, Home On The Range" neighbors.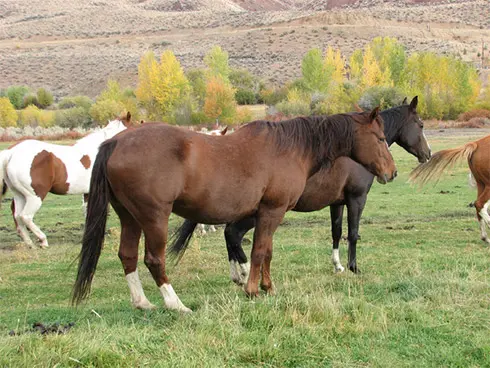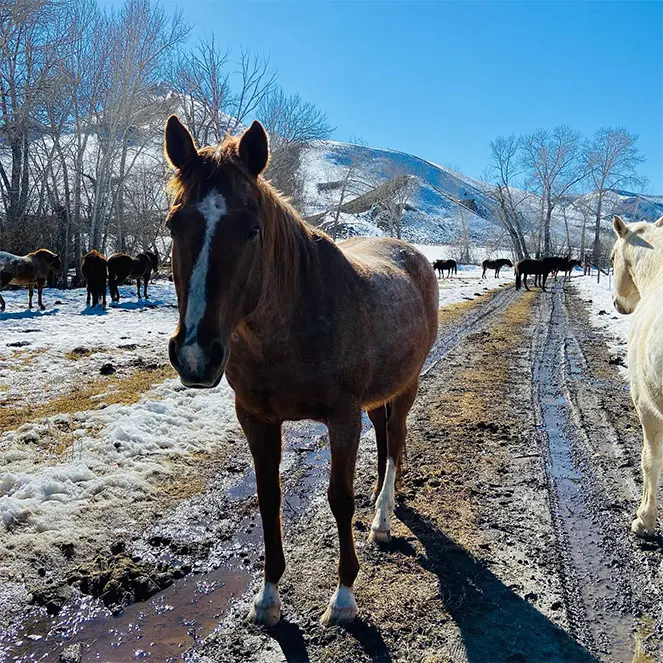 A Congenial Environment
With Seasonal Changes
Despite the mile-high altitude, Round Valley is protected by the surrounding mountains making the weather generally milder than one might otherwise anticipate. The seasonal changes provide 4 distinct pastoral displays. Warm autumn hues transition to the cool winter white of snow-capped mountain tops. Then comes the first flush of green that evolves into a native wildflower show that spring and summer display. Summer temperatures range from 50 degrees at night to an occasional 90-degree day but average in the mid-70s daily.
Winter months range from 0 to 50 degrees. Daily temperatures can fluctuate up to 40 degrees year-round. Even after the hottest day, one can expect a cool, comfortable evening. Though winter temperatures do dip below zero on occasion, this is seldom, as is an extensive amount of precipitation or snow on the valley floor.